4 Cheap, Safe Guinea Pig Bedding Options (Piggie Approved!)
Other than food, bedding is one of the most expensive guinea pig maintenance products. With so many different options available, you may be wondering, which are the safest for your guinea pig? And the most inexpensive? If you are, then you've come to the right place!
The cheapest and safest guinea pig bedding options include:
Fleece
Bathmats
Wood Pellets
Wood Shavings
Although it's easy to switch out beddings, you don't want to jump in all willy-nilly. After all, you want to save money and to provide your guinea pig with safe, comfortable bedding. Let's dive in, so you can learn the proper information about these different beddings before you make any decisions.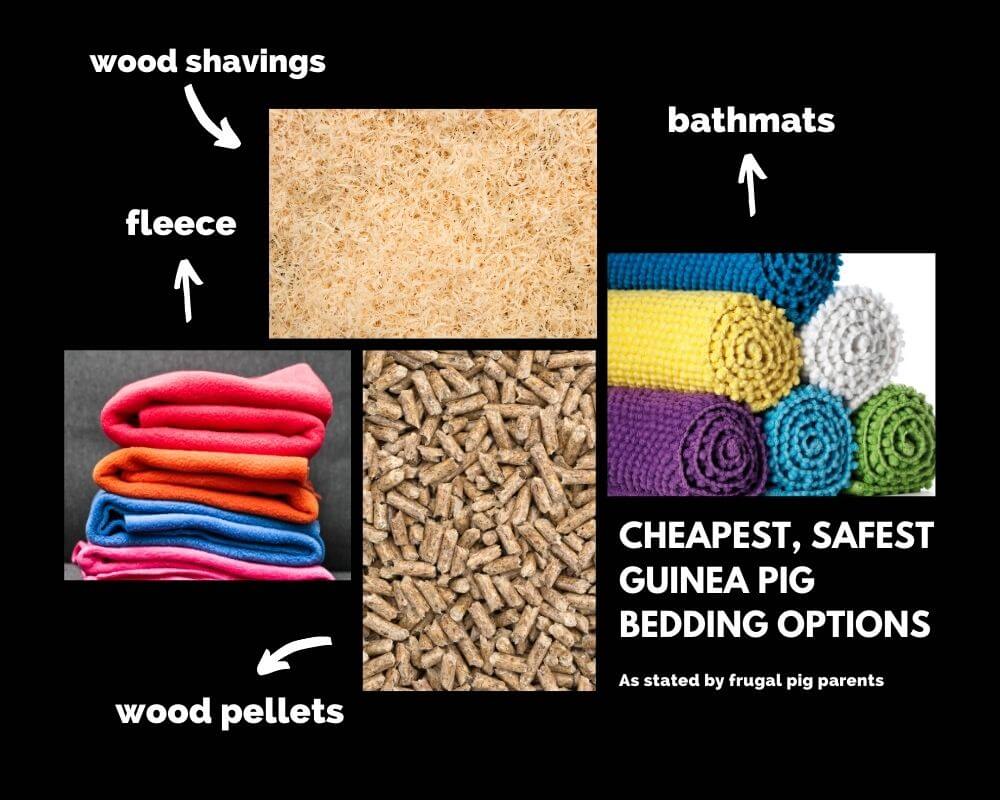 Inexpensive, Comfortable Bedding: What to Look For
Shopping for bedding is notoriously difficult, because there are so many different types to choose from.
If you factor in pricing and deciding on the perfect type, the whole process can feel like gouging your eyes out with rusty spoons.
(Ahem. Or maybe that was just my experience. )
Simplify the process by focusing on main criteria for the bedding. For example, you want to consider the following things:
Safety: Does the bedding have an odor or is made of materials that might cause a respiratory infection for your little friend? Does it absorb urine well, so that your guinea pigs don't get urine scald or bumblefoot?
Comfort: Is the bedding soft and cozy? Will it allow your guinea pigs to burrow?  If not, can that activity be replicated in another part of the enclosure?
Easy to Maintain: What is the time investment to maintain the bedding and to keep your piggie's cage in tip-top shape?  Absorbency and the ability to 
Price: How much does the bedding cost and how frequently must it be replaced to keep your guinea pig's enclosure clean?
The ultimate goal is to not compromise on the comfort and safety of your piggie while ensuring that you're not having to dish out loads of money and spending tons of time on enclosure maintenance.
Use the the decision buddy below to get a general idea of what affordable material you'd like to use in your piggie's cage.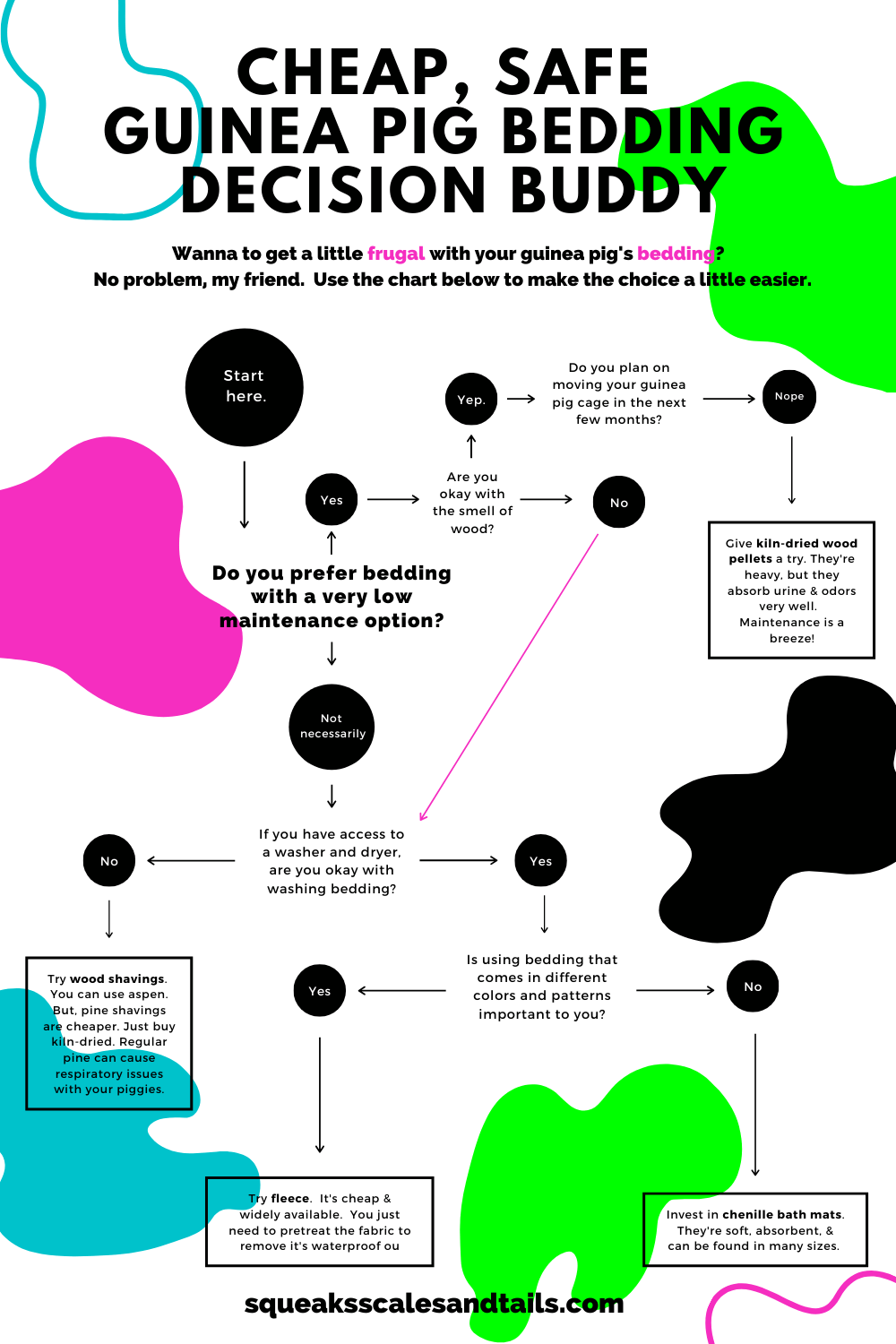 Let's see how some other pet parents managed to find that "perfect" balance…
What Type of Inexpensive, Safe Bedding Are Guinea Pig Owners Using?
I manually collected 164 opinions of low-cost bedding from guinea pig owners from Facebook and other forums.
I only used information from posts written by guinea pig pet parents that emphasized bedding that is cheap, yet comfortable and effective for their little friends.
I used the data analysis of that study as well as other relevant research to develop this list below. Here's how they responded: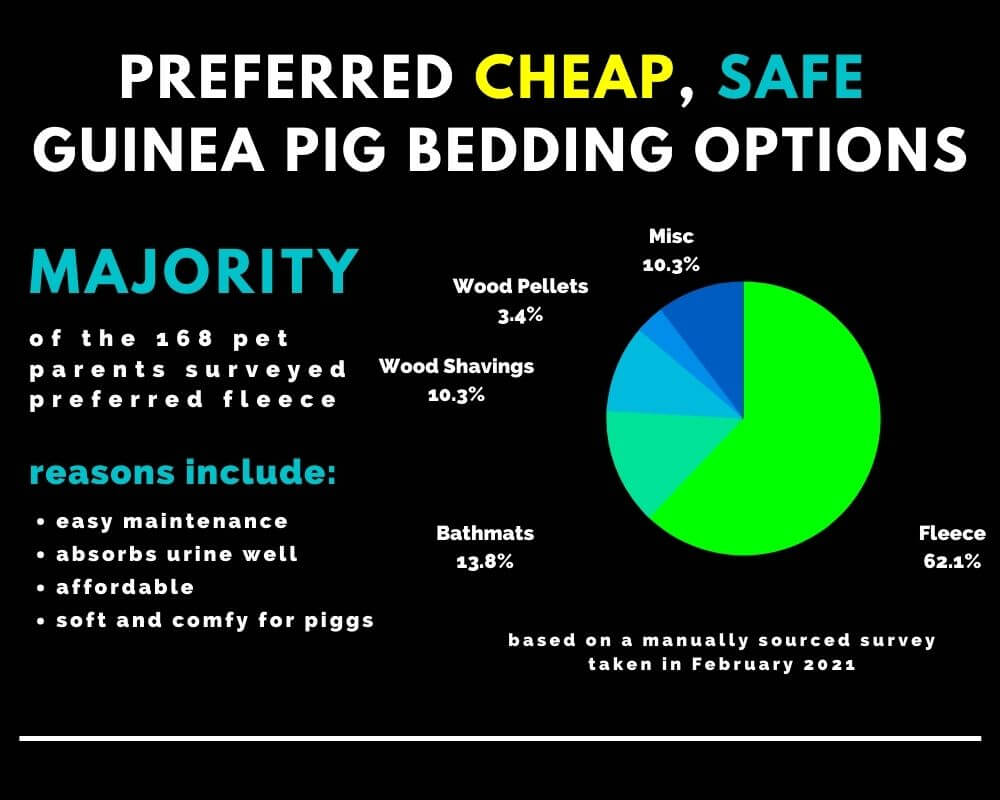 An overwhelming amount of people chose fleece. (108)
The runner up was bathmats. (24) 
This was followed up by pine or aspen shavings. (14)
Wood pellets brought up the rear (6)
Several people used layers of miscellaneous items for bedding including newspaper shavings, shower curtains, newspaper and hay. (18)
It's worth noting that although fleece is the most popular choice, it may not be the best choice for everyone.
As I'll explain below, there are other options that might suit your needs better.
Let's get a more detailed look at the top choice affordable, safe effective cage liner choices for many guinea pig pet parents, beginning with…
✅1. Fleece
Fleece is the gold standard for guinea pig parents searching for safe, comfortable bedding that doesn't break the bank. 100% polyester, anti-pill fleece is your go-to.
How to Keep Fleece Bedding Costs Down
Looking at my research, I discovered that many fleece-loving guinea pig owners had ingenious ways of saving money when it was time to purchase the fabric.
Here's what I found out:
Out of 108 fleece lovers, 70 didn't spill their cheap fleece secrets. However, 38 people gave suggestions about how to acquire inexpensive bedding. I've listed them below.
Some recommended looking for fleece in thrift stores or at yard sales. (3)
Think out-the-box. Use fleece throw, baby blankets, or pajamas that can be cut to size and utilized as bedding. (2)
The vast majority suggested Walmart (27) for affordable fleece options
Joann Fabrics is a viable, inexpensive option, particularly if it's paired with a coupon or to purchase fleece remnants (6)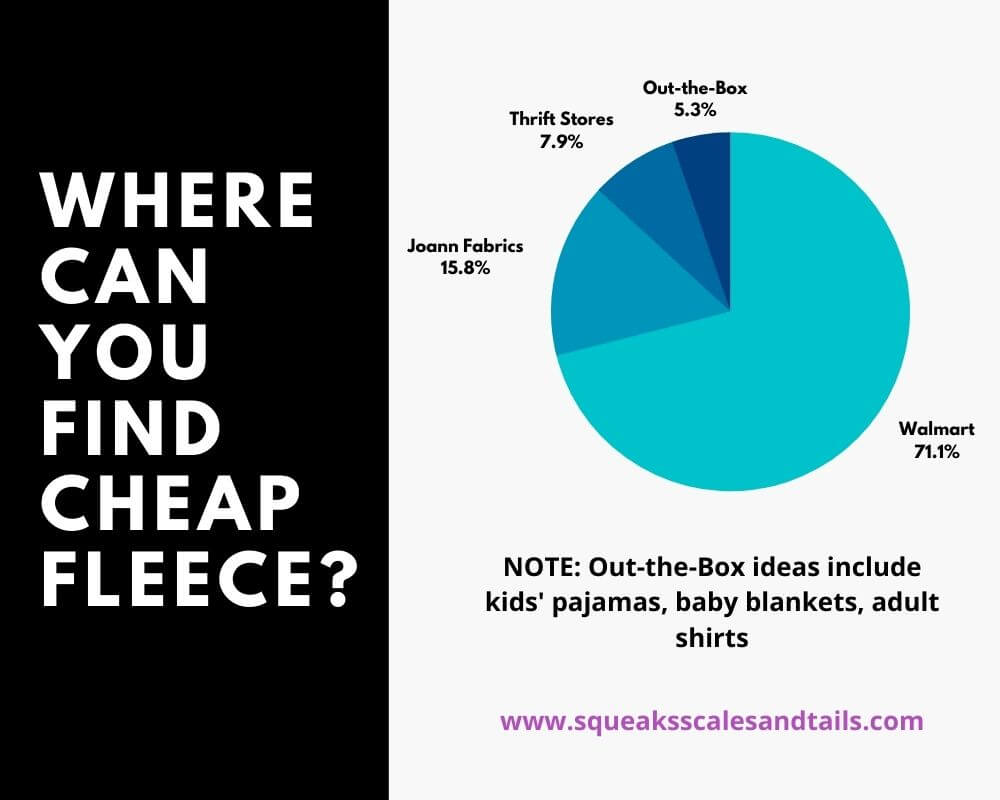 Out of the 38 that gave tips on where to find cheap fleece, 33 suggested inexpensive, absorbent layers to use underneath the fleece.
Uhaul Blankets (16)
Towels (13)
Puppy Pee pads (4)
Uhaul blankets and puppy pee pads are inexpensive and can be readily found on Amazon or Walmart. Cheap towels can be found at thrift stores, dollar stores, and yard sales.
Overall, fleece is a good option for a budget-conscious, pet parent.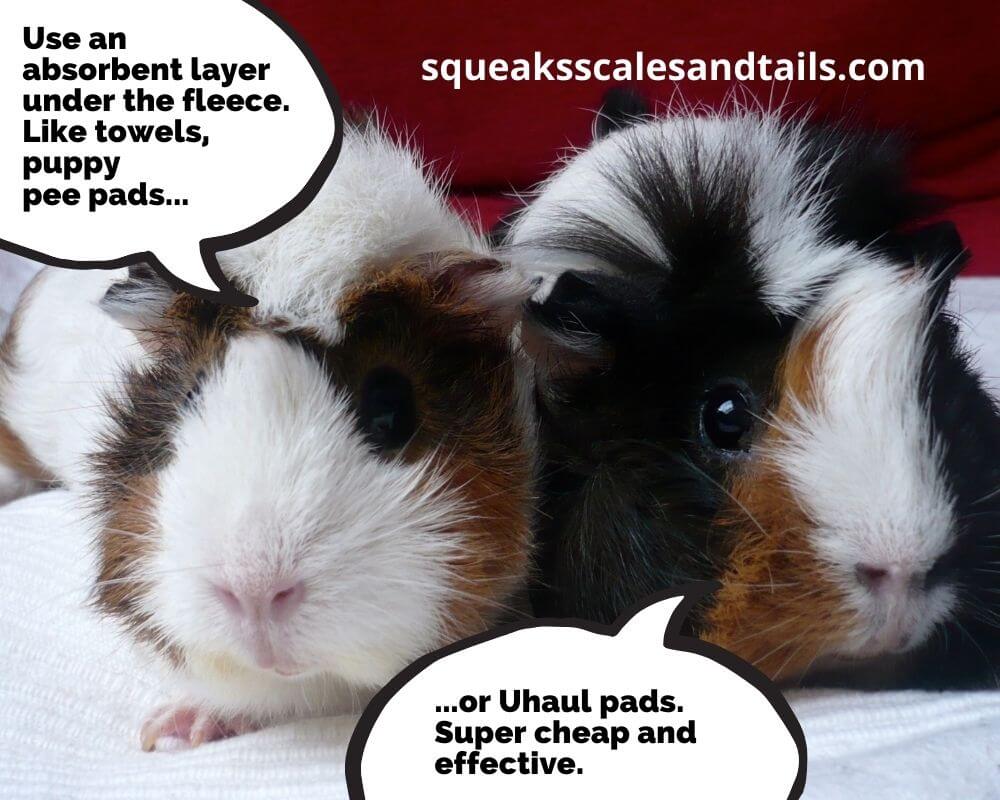 ✅2. Bathmats
Bath Mats are another cheap and safe option to use as cage liners. If you want maximum effectiveness stick to the chenille noodle bath rugs or mats made of polyester.
✅ If you're in a hurry or just curious, here are 3 good, bathmat options you can order on Amazon.
Using bath mats as a guinea pig cage liner is a welcome alternative for owners that don't want to bother with wicking fleece. And who can't stand the mess of wood or paper shavings.
This video shows an example of how bath mats can be used as guinea pig cage liners. Check it out.
From the survey, 24 people out of the original 164 preferred using bath mats. This means bath mats were rated the second highest rated affordable, safe guinea pig cage bedding. And it's easy to see why.
The majority of the pet parents claimed that bath mats were cheap and easy to maintain. A few didn't share their opinion besides the fact they felt bath mats were the most affordable and effective cage liner.
17 (easy to maintain)
7 didn't mention anything at all
Now, it's time for you to learn…
How to Keep Bath Mat Costs Down
To really save money when purchasing bath mats, you have to do one thing:
Shop around.
Honestly.
That's it.
Bath mats are readily available almost everywhere, including:
Amazon – Chenille Slip Resistant Bath Rugs are usually pretty budget friendly
Ikea – The Toftbo bath mat is usually less than $10 each
Target – The Solid Bath Rug is usually around $8 each
You can also find other brands of bath rugs at Big Lots and Dollar General. The most important thing is to make certain that you're buying the right kind: chenille noodle bath rugs or bath mats made of polyester.
The good news is that these bath mats are quite durable.
Buy a few and they'll last a long time.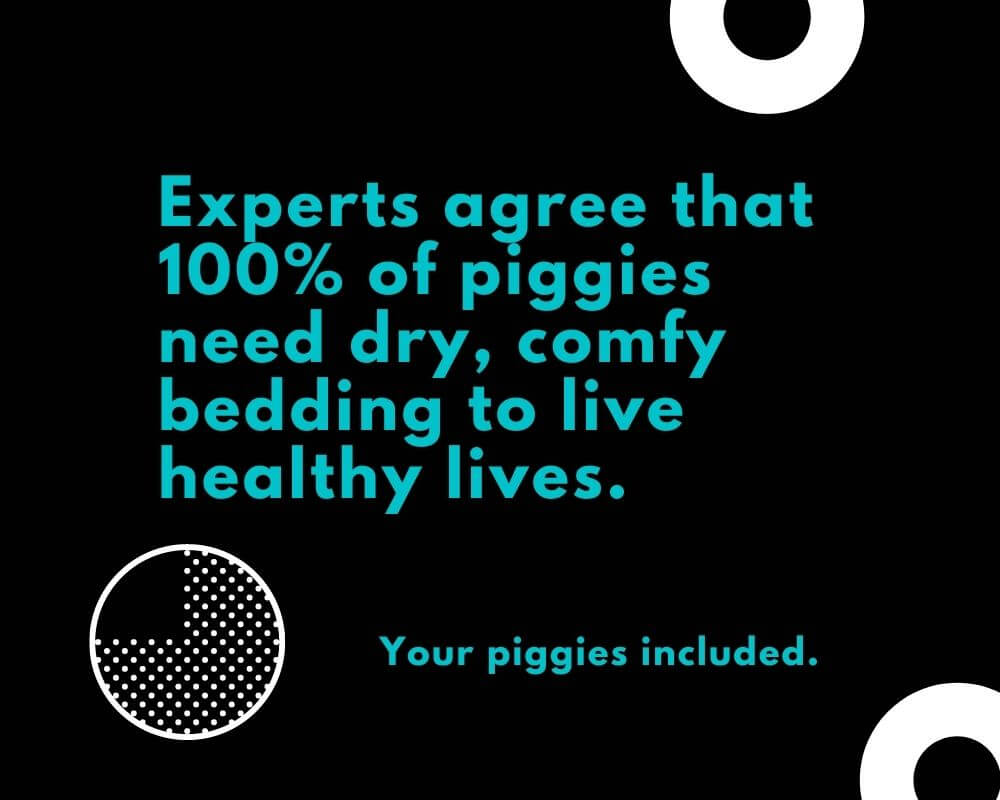 ✅3. Wood Shavings
Aspen or pine shavings were mentioned as a great, inexpensive bedding option. And I agree! Over the years, wood shavings have been my go-to.
I was surprised that 14 out of 164 people considered wood shavings an affordable option.
I mean, you have to replace wood shavings at least every week. That can't be economical in terms of cost.
Right?
Not necessarily.
On the surface, wood shavings aren't as economical a choice as other beddings. It becomes much more inexpensive when you learn…
How to Keep Wood Shavings Costs Down
If you're going to save money when using wood shavings, then keep a few simple tips in mind.
Don't be a slave to brands. Scour Amazon or other stores for the best deals
Buy in bulk. Bigger packs are usually less expensive than the smaller packs.
Purchase the shavings locally: at farms or Tractor Supply Stores.
✅4. Wood Pellets
Wood pellets ranked low in the research, but I included it in this list, because it's so cheap and so easy to maintain. Once again, make sure that the wood pellets are kiln-dried pine and that they are hardwood pellets.
Hardwood, kiln-dried pine pellets are a good option if you are in the "I'm so over cleaning this cage" group of pet parents, who still want their piggies to have safe bedding.
If you want to see wood pellets in action, sneak a peek at the videos below.
Here's another one that should be helpful to you.
How to Keep Wood Pellet Costs Down
If you have a tractor supply store or a farm store that sells the proper wood pellets, then they're only going to cost you $6 – $7 for a 40 pound bag.
Shipping, as always, is extra, and might run you another $20.
If you don't live near a store that readily sells them, you may want to order them from Amazon. The pellets are very heavy and if you have to pay to have them shipped, Amazon's shipping rates are pretty reasonable.
And if you're a prime member, then it's free!
Now, I know what you're thinking.
Sounds pricey, huh?
But, let's put this in perspective.
Depending on the size of your cage, the wood pellets wouldn't have be changed for several weeks, if not months. Because unlike wood shavings that have to be changed weekly, wood pellets last significantly longer. That's less money that you have to put into bedding.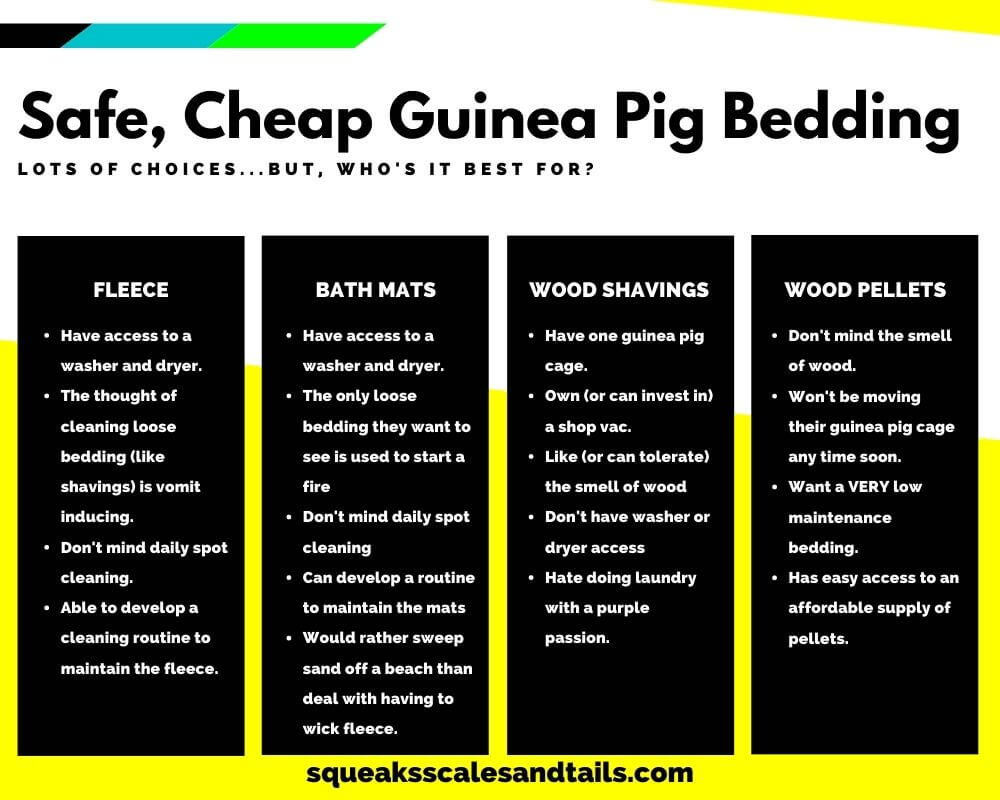 Bottom Line?
Although guinea pig bedding options are often a matter of personal preference, it's pretty clear that using bath mats is the safest, cheapest option for most pet parents.
Why?
Bath mats are very comfortable for guinea pigs. They have most of the perks of fleece (minus the variety of patterns), with less of the headaches. For example, no wicking is involved.
Also, they're light and very easy to switch out and to clean.
Psst! Now You Know Bedding Doesn't Have to Cost an Arm and a Leg
Sometimes it can seem that raising guinea pigs on a budget is a battle.
And one of this biggest skirmishes is to get your piggies the safe, comfortable bedding that they deserve. Bedding that keeps their enclosure a clean, dry, environment for them.
Your enemy? Bedding options that break your budget and suck up your time.
This battle is not for the faint of heart.
But, there's no need to lay your sword down in defeat.
Now you don't have to venture down a rabbit hole of endless options, because now you know how to choose a bedding that's right for your little friend (and for you!) like a pro.
Fleece, bathmats, wood shavings, and wood pellets are all affordable, comfortable options for bedding for your little friend. Just make sure that you apply
Don't engage in battle unprepared.
When the time comes, arm yourself with this guide without delay.
Your little friends are counting on you.