Armor All Shop Vac Review: Does it pick up poop and hay? (Find Out Here)
Aren't you sick and tired of picking up guinea pig poop and hay? Stressed because it seems to take forever and a day? Flabbergasted because you still find poop pellets smushed into your socks and picking hay out of the carpet-even after you've spent an hour cleaning?
The Armor All Utility Vac is good solution to most of your guinea pig cage cleaning issues. Unfortunately, it's ability to vacuum hay is sadly lacking. But, ease of use and efficiency with sucking up other items: dropping, pellets, as well as other pesky household items makes it a great buy.
If you're a guinea pig owner completely fed up with apologizing about mess your guinea pig makes to your guests , but don't want to fork out huge tons of cash. Or say you want a shop vac that's small and portable that does the bulk of what you need it to do, then the Armor All Utility Vac (Amazon) is a good investment to help you claw your way out of guinea-pig cage-cleaning drudgery.
Summary Review of: Armor All Utility Vac
Effectiveness
did well vacuuming most things; hay was a struggle.
Price
Very reasonable price in most locations. Usually under $75.
Summary:
The Armor All Utility Vac for me is in that middle area of trade offs. Although it falls short in the area of hay pick-up, it checks off A LOT of boxes. If you're able to keep your hay vacuuming expectations realistic, then you'll love the product.
This is why I put this review together. To help you make an informed decision about whether (or not) the Armor All Utility Vac is something that will free up time to spend with your piggie pals, your family, and your hobbies.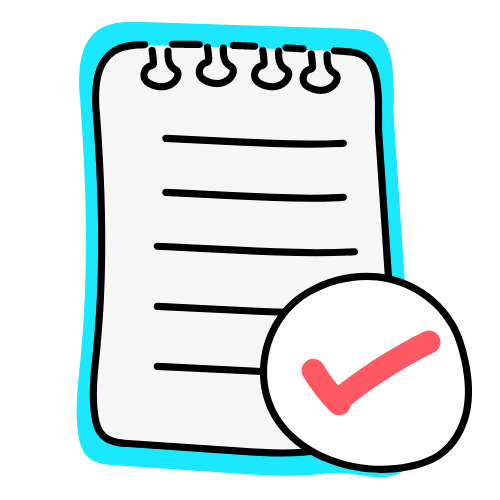 Why Bother with A Shop Vacuum Anyway?
Good question. A lot of people on forums recommend hand held vacuums and there are some situations where
But, listen…
Shop vacuums are designed to suck up pretty much anything. It's a perfect workhorse for what you need it to do – to quickly devour a lot of cruddy things in your guinea pig's cage – as well as other items in your home that need a quick clean up.
That means that shop vacs (the right shop vac) are your new bff in a war against guinea pig poop, hay, and general debris.
Landfills are littered with the corpses of hand vacuums that have dueled with piles of soiled hay and guinea pig droppings and lost.
Listen:
Hand vacuums and standing vacuums aren't designed to do the job that shop vacuums are – particularly if you need a vacuum for something more robust – like guinea pig cage cleaning tasks.
I have nothing against hand vacuums or even standing vacuums. In fact, for some situations, those are preferred options. But, a shop vacuum is a ride-or-die product, for guinea pig owners a couple of reasons.
They hold a lot of debris.  I don't know about you, but I hated having to empty out my hand vacuum three or four times before my guinea pig's cage (or floor area) was clean.  
They're designed with an electrical cord. Now a lot of people are pro-cordless, which makes sense….unless you end up with a hand vacuum that cuts out on you (repeatedly) before you're finished cleaning the cage.
They're durable. They last FOREVER. Seriously! When I had my little piggies, I plowed through two standing vacuums and a hand vacuum. When the dust settled, the shop vac was the only tool left standing.  And it's the same for most people. Believe me, I've asked around.
They're easy to unclog.  Just remove the hose, grab a broom, and get to work.  I've tried doing that to a hand vacuum in the past and almost broke it. 
They have stronger suction abilities. You need something powerful to suck up to do the hard work of cleaning a guinea pig cage.
When you think about it, if you're a guinea pig parent having a shop vac…just makes sense.
Okay, So Why Bother with the Armor All Shop Vac?
Funny that you should ask, because I've made a short video reviewing it below. Take a peek at it.
Let's look at some its main features below – according to the manufacturer.
But, more importantly…
Let's look at how these features will help your guinea pig cage cleaning woes and make your life a little easier.
| | |
| --- | --- |
| Features | Benefits |
| 7 pounds | This shop vac is lighter than some newborn babies. If you have back issues or have to store it somewhere other than where you keep your guinea pig cage, you |
| Dimensions | It's 10.6 X 14.2 X 14.4 inches means that it can fit easily and neatly in a closet vs. being shoved into a corner like a sack of dirty laundry – an ultimate eyesore. Plus, with most people trying to get bigger and bigger cages for their furry friends, space is at a premium. |
| 2.5 Gal Vac | No more having to empty the hand vacuum three or four times to finish cleaning your guinea pig's cage. It can be done in one big swoop! |
| Cost | It's very affordable; The average price is around $40 to $50, so it's well in the budget of most people – always a good thing |
| Corded Electric | The fact that it's corded, means that no one has to worry about running out of battery power. And it has a two-tonged prong, which is excellent – it's like three-prong outlets grow wings and fly away when you go looking for them. |
I also used some other criteria that I used to judge and rate the Armor All Utility Vac. For example, I looked at the following items:
I've also included a number of photographs of the shop vac below. Take a closer look at the different attachments.
Notice how simple and straight forward everything looks.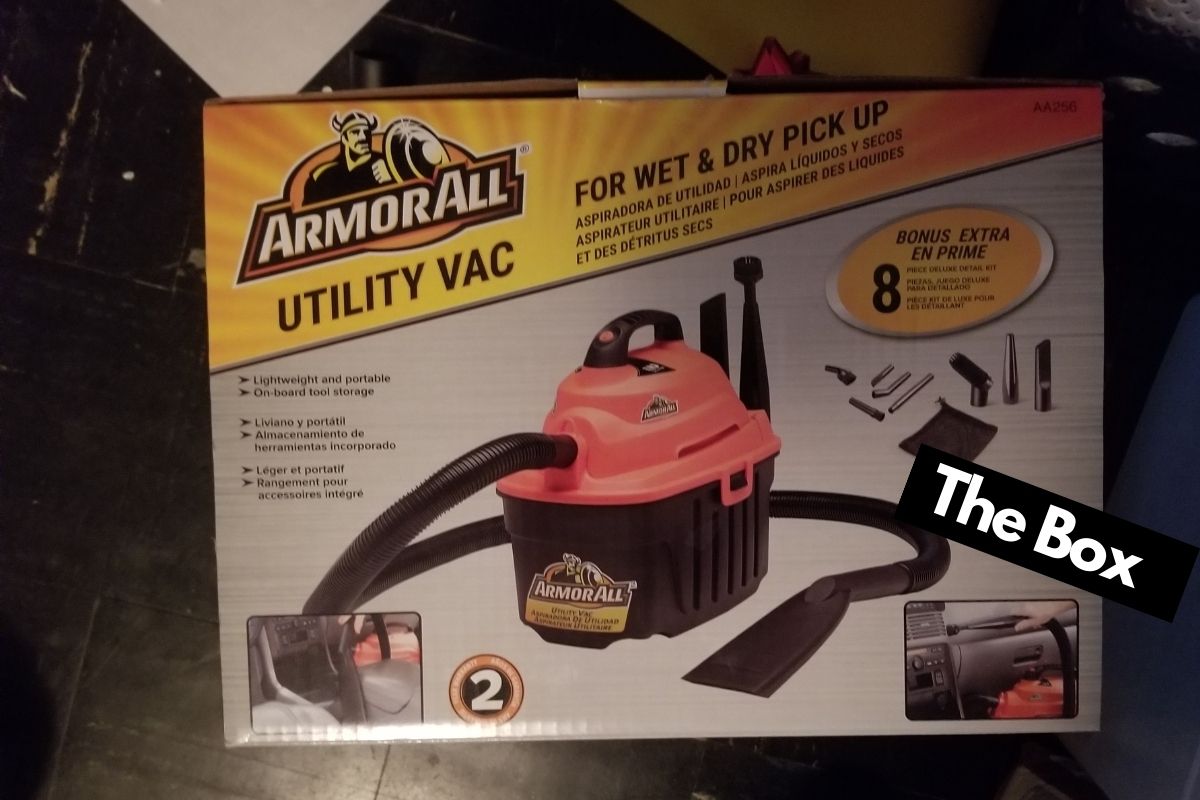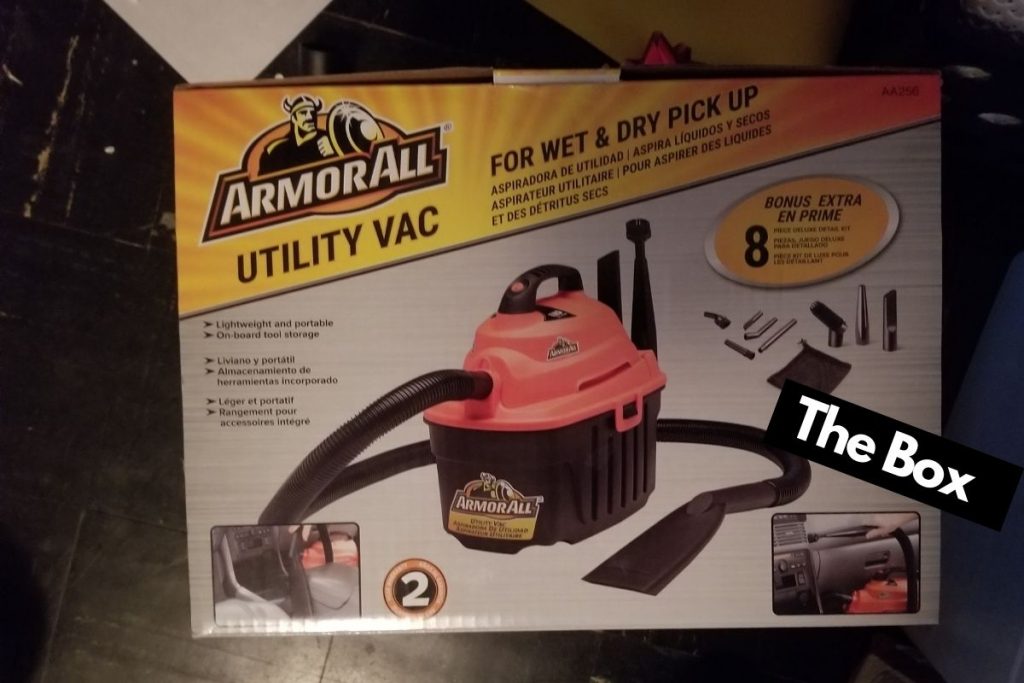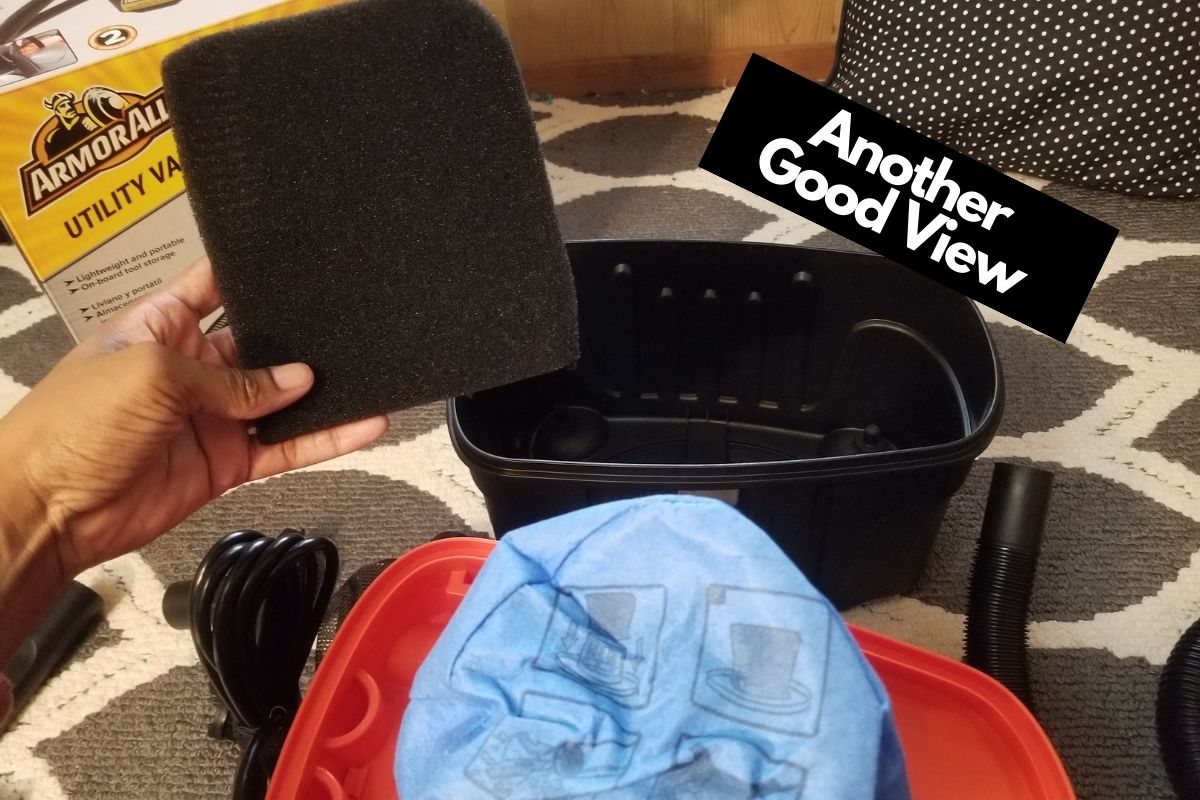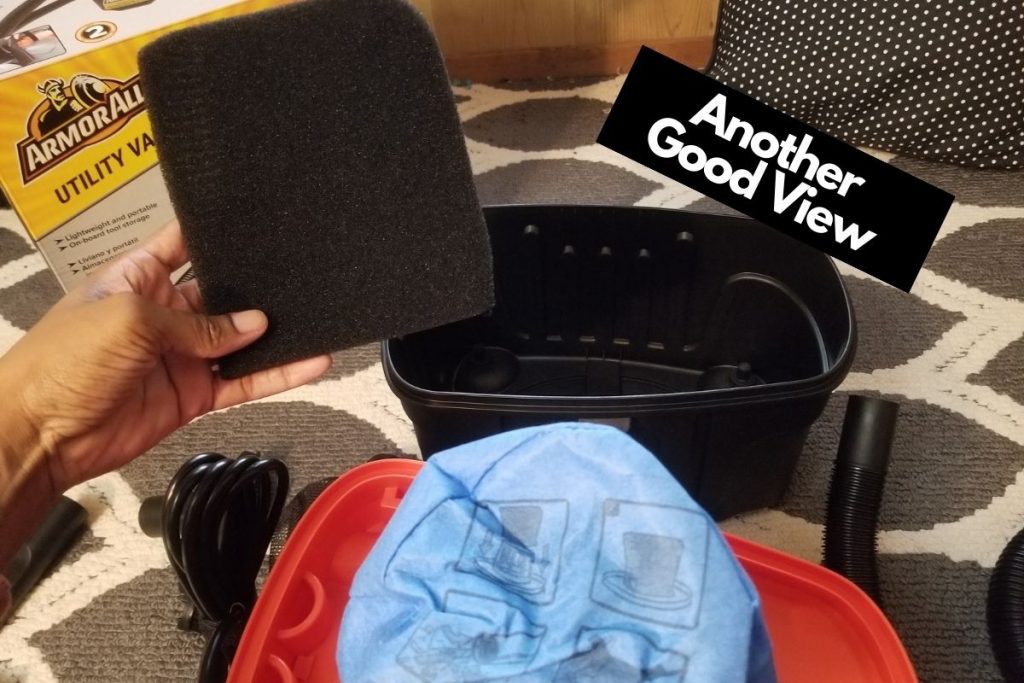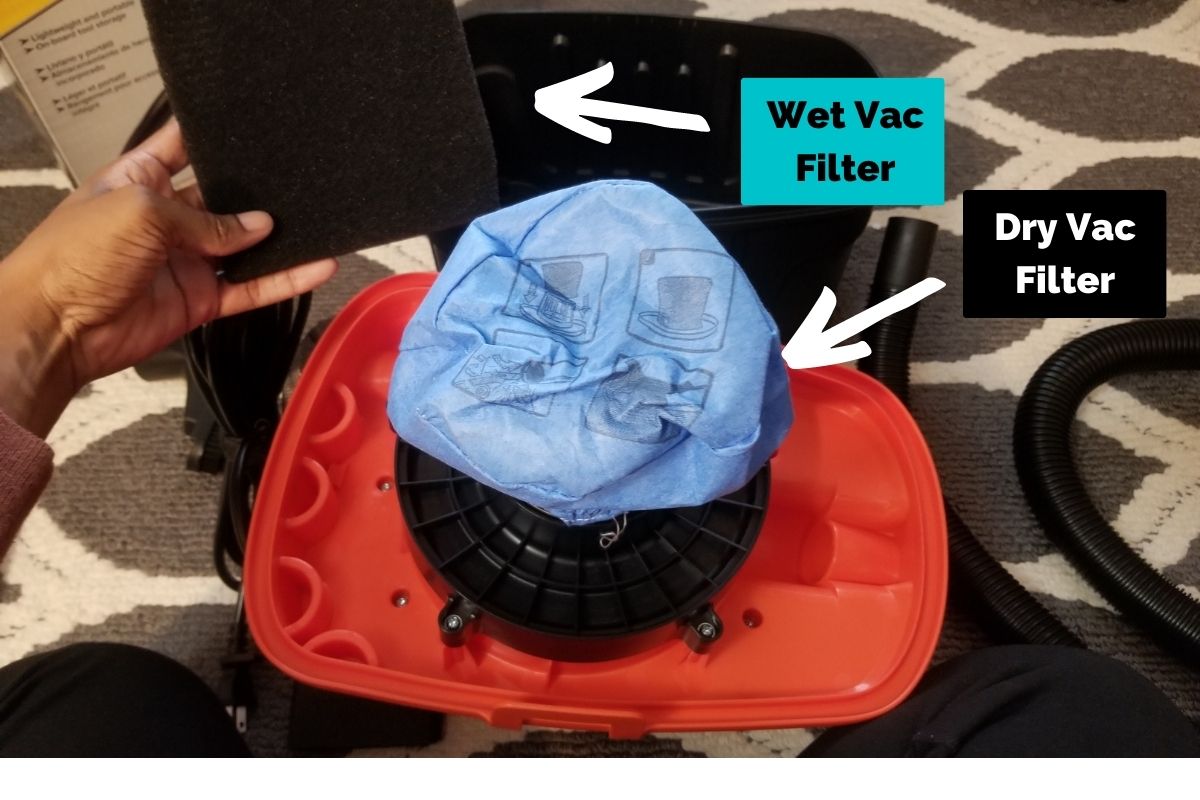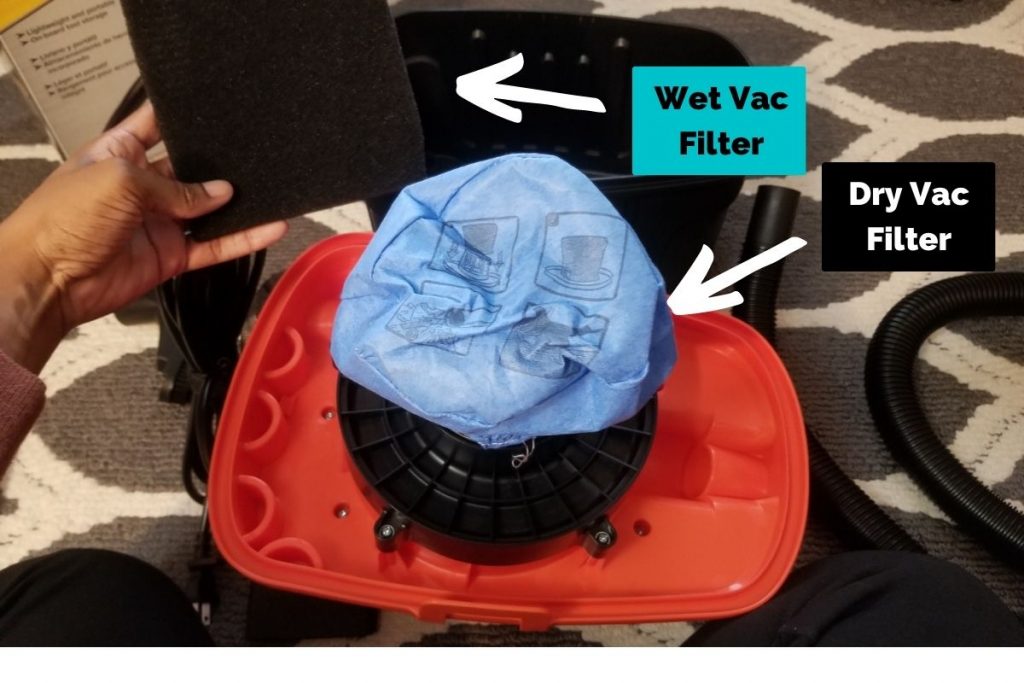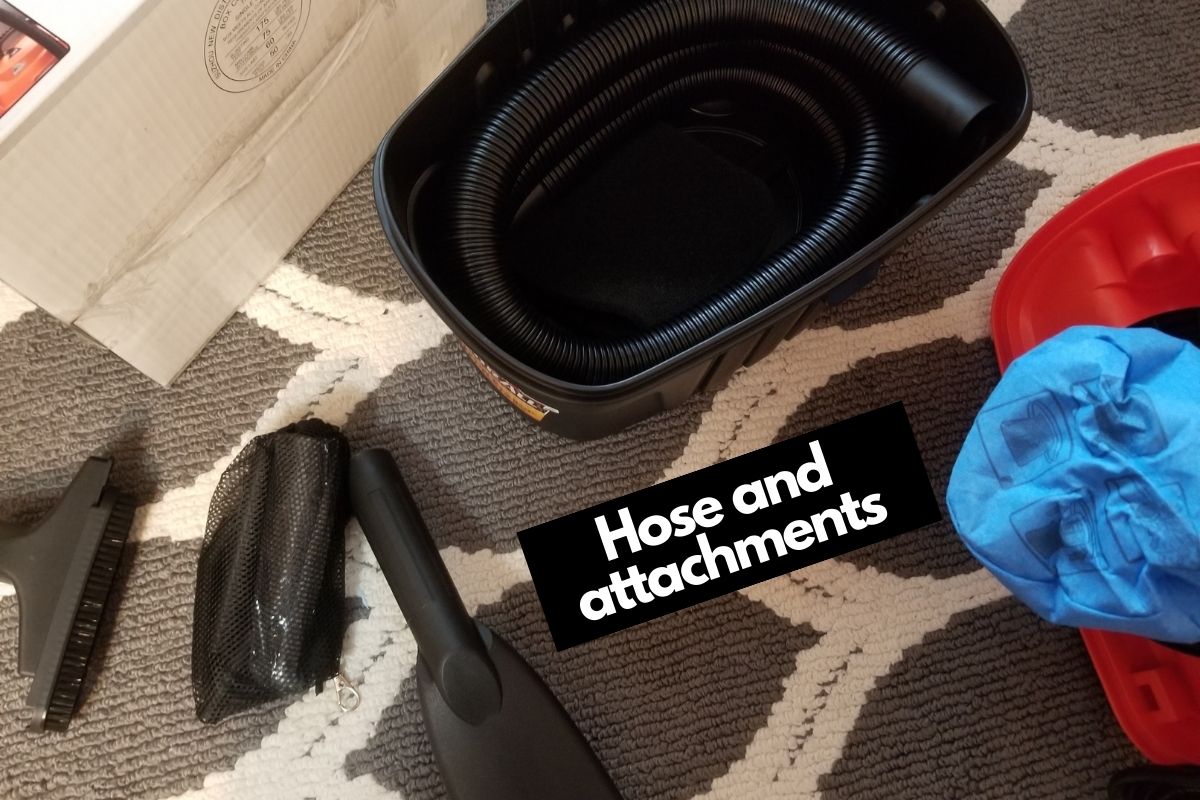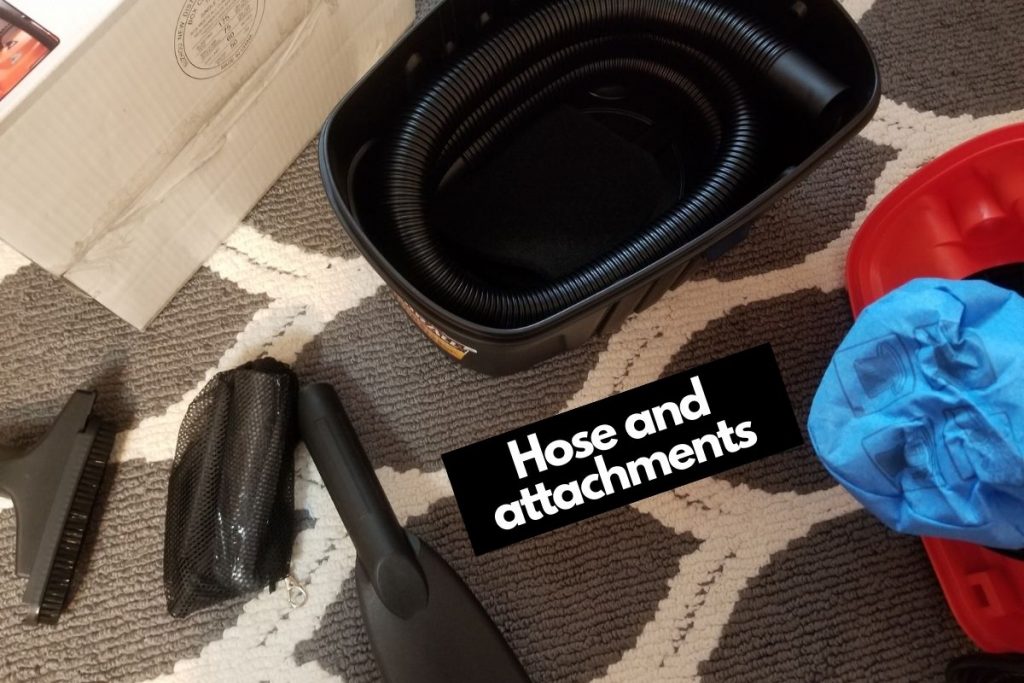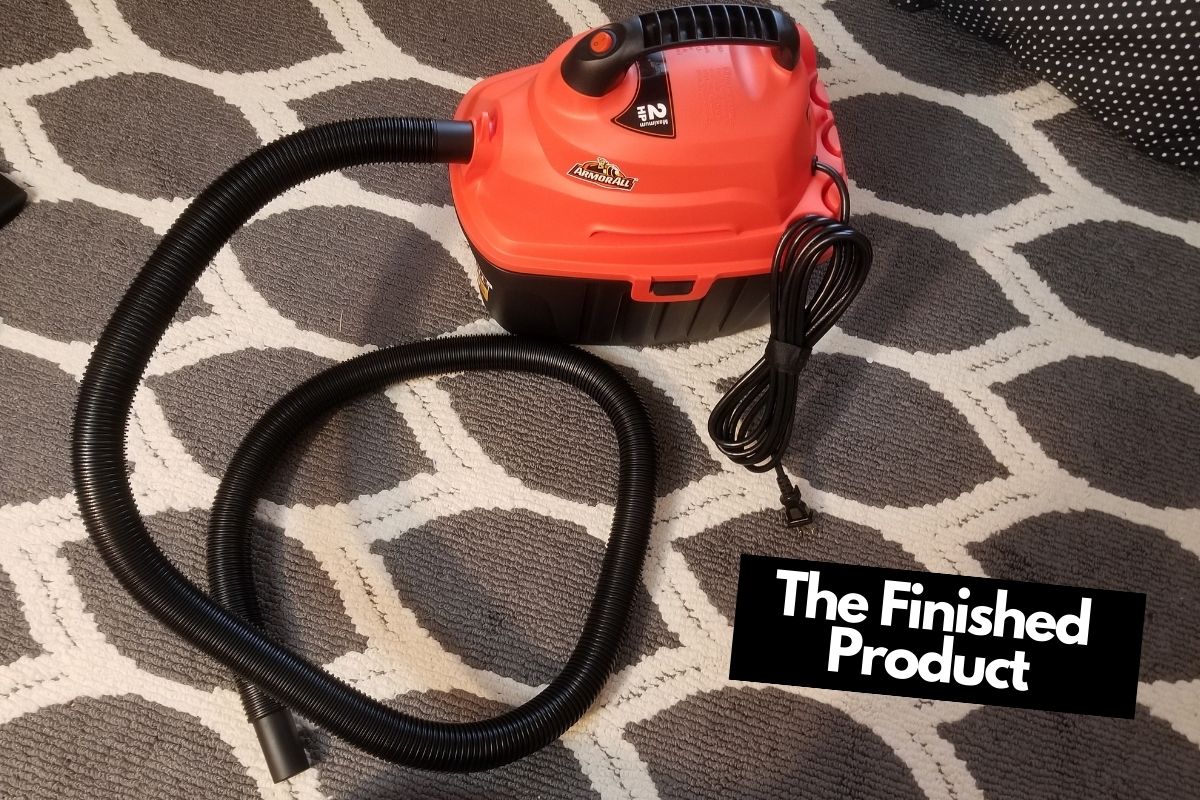 Now listen:
As I said before, one thing that it's pretty lousy at *cough* is sucking up hay.
Armor All Shop Vac Disadvantages OR What the heck? It Doesn't Suck Up Hay?
If there's ONE thing that I'd change about the design, it would be for it to have a 2.5 inch diameter hose. During my testing, the suction was enough to pull the hay in, but it kept getting clogged, because the diameter of the hose is only 1.25 inches.
Off camera, I had to unclog the hose. Yes, I used a broom handle combined with a hanger.
(But, it took me less than 5 minutes. So, I consider that a mini-win, because the last time I tried to unclog our standing vacuum, it took me nearly 45 minutes – half of which I spent crying because I was so fed up.)
Here's the work around. Kick it old school. Pick up most of the hay by hand dust broom (especially the bigger pieces). Use the shop for the stray pieces.
Let's take a moment to take a look at some of the disadvantages of the Armorall in detail:
Difficulty vacuuming hay:  This is admittedly a big disadvantage, because being able to suck up the hay is the main reasons a lot of people would purchase a shop vac.  
It's only a 2.5 gallon shop vac.  If you're someone who has a lot of guinea pig in a lot of cages, it might not be big enough for you.  
Possible Alternatives (or What If I Want a Hand Held Vacuum or a Bigger Shop Vac?)
Variety is the spice of life and there are a number of other options that you can consider for your guinea pig cage cleaning needs.
Personally, I've had my eye on testing out another shop vac. It's called the Rigid and comes with a bundle of features that seem promising:
Even the price is pretty freaking sweet. At $70 it's priced $20 less than most of its competition and the reviews are amazing.
You can find it at Home Depot if you click here.
If you'd like to try a handheld vacuum, Amazon has a nice selection. They also have some well-priced shop vacs with promising features.
Just keep in mind what you want in a vacuum by asking yourself a few questions:
How much space do I have to dedicate to a shop vac?
What is my budget? Do I have the money for a more expensive or more reliable model?
Is it easy to disassemble on a daily basis? You don't want to keep guinea pig waste in there for weeks and weeks. Ew!
Does the vacuum come with all the attachments I need? Do you need a tool that can reach a lot of nooks and crannies?
Are you willing to buy a shop vac that requires frequent filter replacements? If so, factor that in as another expense.
Is the weight of the vacuum I buy something that I need to be concerned about? Do you have back issues? Are you pregnant?
Will the sound (if noticeably loud) be traumatic my guinea pigs friends?
Am I willing to deal with a battery-operated device?
If I go for a shop vac, what size diameter hose do I need? *HINT: If you really want your home to be free of pesky stalks of hay, then you need at least 2.5 inch diameter hose.
Keep those questions in mind, and you can't go wrong looking for a vacuum that fits your needs and the needs of your guinea pigs. Ultimately, you'll have to experiment to figure out what's right for you.
The Verdict? – Would I Recommend The Armor All Shop Vac?
I would …for the right person.  As long as the majority of the following statements applies to you, then the Armor All Utility Vac (Amazon) would be worthwhile purchase. You:
Want a faster, easier way to keep your guinea pig's cage clean.
Don't mind if hay can't easily be vacuumed, but a whole heck of a lot other things can.
Don't have room for a bigger shop vac.
Won't (or can't) pay for a larger, more powerful shop vacuum.
Have a desire for a reliable shop vac that can be used to clean cars and small garage projects.
Have toddlers that constantly make a mess. (Honestly, I've never seen cheerios vacuumed up so quickly!)
Would rather avoid using handheld vacuums, because you don't want to deal with charging them or having to empty them multiple times.
Either way, I hope this article helps you find the right vacuum for you!