The Alarming Truth About Guinea Pigs Wearing Clothes (It's Risky)
You may have seen a photo of a cute guinea pig dressed in clothes and thought, "That's adorable!" But you should think twice before dressing your piggies in clothes at all. I decided to do my research and find out if it's safe and healthy for cavies to wear clothes.
Dressing your guinea pigs in clothes can be risky and should be avoided when possible. The more constricting the clothing, the more dangerous it is. Wearing clothes can cause health and mental issues with your guinea pigs.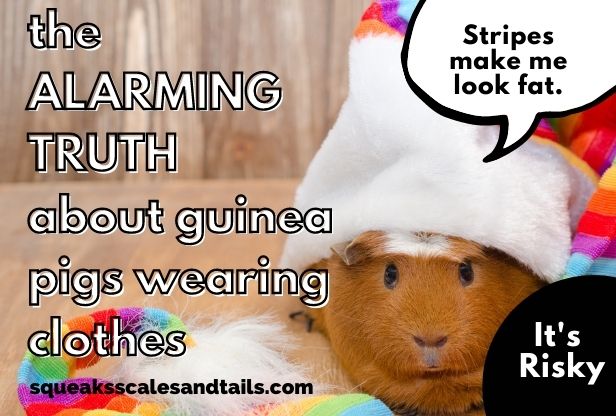 Keep reading to understand more about the risks of dressing up your guinea pigs and the dangers that can come with it.
But, first let's look at…
Why Do People Want Their Guinea Pigs To Wear Clothes?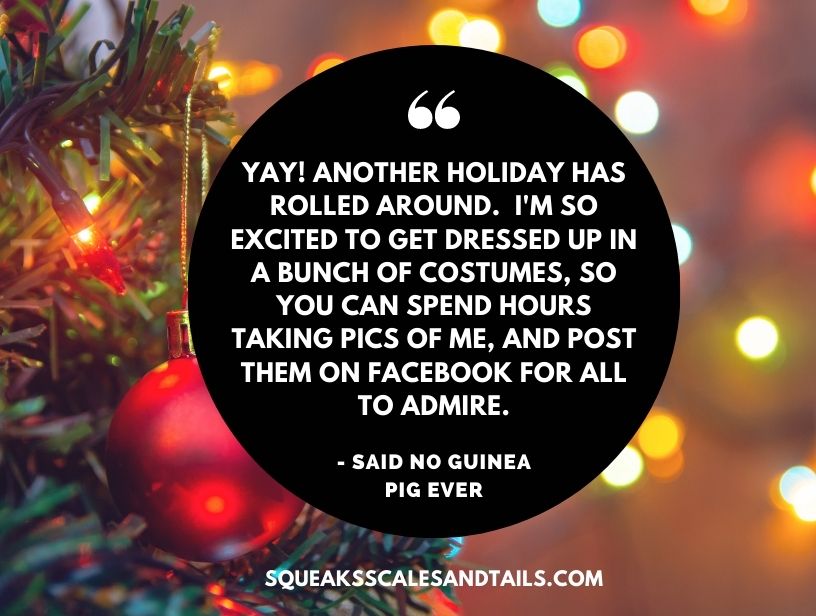 Today some pet owners buy clothes for guinea pigs like they're actual human childen. When I was researching this article, I came across pages and pages of different outfits for them.
I did a little research and most owners who want to dress their cavies fall in one of two categories:
They're concerned that their piggies are a little too cold.
They think the outfits look funny and cute on their piggies.
But are the risks worth it? Because there's a lot of disadvantages to dressing your furry friends in outfits.

1. Stressful
Cavies don't naturally wear clothes. They're all fur and body.
So, it's a weird thing to them when you slide on a synthetic shirt or jacket or you put something around their neck.
It will often automatically shoot their stress levels up – especially if they're not used to wearing clothes for extended periods of time.
Sometimes piggies have what can be described as panic attacks when they're forced to wear clothes. Then , they struggle, get upset, and can become aggressive.
Why put your pet through that?
2. Can't Get To The Poop
Dressing your piggie makes an unhealthy situation since it removes their ability (or at least makes it really tricky) to get to their soft poop.
Guinea pigs poop that is soft and full of vitamins – it's called caecals. They can't break down all the vegetables that they eat, so they poop them out (and eat them again) to get more nutrients.
This is essential to your piggie's health because it gets rid of all the things that their body can't use and gives them a way to get more vitamins and minerals.
Putting clothing on your little friends might cause them to become malnourished.
It may seem like innocent fun, but dressing your guinea pigs in clothing can cause health and mental issues. Wearing clothes can restrict their movements and put them at serious risk for injury.
Thinking about adding a piggie to your family or want to brush up on the essentials? Gotcha covered. What you need is a reliable, "all-in-one" resource to refer to when you're struggling. A Beginner's Ultimate Guide To Guinea Pig Care is a starting point with all the basics and more to get you on your way!
3. Serious Injuries & Illnesses
Costumes can cause serious injuries to your small pets. There are three main issues that you'd have to watch out for if you dressed your cavies in clothes:
Choking hazard: Guinea pigs can easily strangle themselves in the clothes, because they can get their heads stuck or have the clothes get too tightly wrapped around their neck and body. The loops of an outfit can get caught on something as they're zooming around their cage, and they could choke that way, too.
Overheating: Cavies usually prefer cooler temperatures and they're sensitive to heat fluctuations. It's never a good idea to put your piggie in a situation where they're hot and can't do anything to cool themselves down.
Gastrointestinal Issues: Your little friends might decide to gnaw and nibble on their outfits. That could block their digestive systems and lead to all sorts of serious health problems.
Putting clothing or items around your little friend's neck is dangerous and can result in injury or death. This includes leashes and collars.
4. Can't Groom Themselves
Piggies can't take off their clothes and hop in the tub when they're stinky. They lick themselves and can get all the stink off them.
If your little friends are wearing an outfit, then they can't groom themselves properly. The clothing makes it impossible or them to do what they need to do to keep themselves reasonably tidy.
That's not fair to your piggies.
After all, why put something on them that makes it impossible for them to take care of basic functions – like staying clean?
You wouldn't leave a human in a dirty outfit all day, so why would you do it to your guinea pig?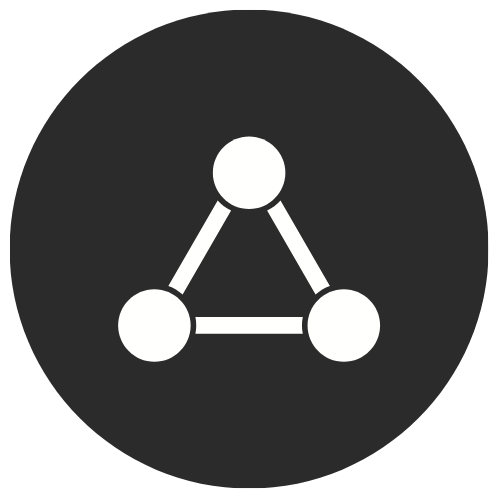 5. Allergic Reactions
There's always a possibility that your guinea pig will have a bad reaction to the clothing.
Guinea pigs with allergies to the fabric of their clothes can suffer from skin infections and may become itchy or irritable.
Potential symptoms include excessive scratching and crankiness.
Depending on the type of fabric and allergies, the guinea pig may also develop respiratory problems such as nose or eye discharges, sneezing and wheezing.
If you notice any of these symptoms in your guinea pig after dressing him/her up, take the animal to a vet immediately.
Anything that requires you to tie the clothes to the piggies -especially around their necks – is pretty dangerous.
Signs Of Guinea Pig Discomfort From Wearing Clothes
Piggies might be stressed if they change their behavior after wearing clothes. If you notice any of the following signs, then you might need to rethink about dressing up your pet:
hiding without any apparent reason
chewing the bars in their cage
a lot of grooming (excessive amounts)
sluggishness (doesn't want to move)
overtime you'll notice a lack of appetite and weight loss
If you notice any of these signs, then you might need to rethink about dressing up your guinea pig.
Remove the clothes immediately and give your piggies a veggies treat and some snuggles to cheer them up.
Then follow up with an apology and a promise to never do that to them again.
(Yeah, I know your cavies probably won't understand you if you say that, but it'll make you feel better – especially if you stay true to your word.)
Which Guinea Pig Costumes Are The Most Harmful?
If I had to pinpoint which costume is the most harmful, I'd say that anything that requires you to tie the clothes to the piggies -especially around their necks – is pretty dangerous.
You might think that your guinea pig can handle it and he'll be totally fine with a bandanna tied around his neck…
But, you can never really tell if the little guy will have an allergic reaction to the material or if he'll freak out trying to get out of his "accessory".
Then you're risking your piggie getting hurt.
And for what? A photo op?
Also, be sure to remove the clothes before you let your guinea pig run around. Leaving them unprotected can put him at risk of getting injured or even breaking a leg while trying to get out of his costume.
If you can't remove the clothing after putting it on, then make sure that you watch your guinea pig really closely.
Do Guinea Pigs Like To Be Dressed Up?
Well, I think that depends on the guinea pig – each one of them is different.
And the word "like" is probably the wrong word in this instance.
It's more accurate to say that a few guinea pigs "tolerate" getting dressed up as much as other.
Some cavies are so laid back and chill that they won't mind wearing clothes at all. Others will panic like you're trying to skin them alive and try their best to get out of the clothes.
Some pet parents say their piggies don't mind wearing a bandanna, but freak-out when they're dressed up in costumes like a cowboy or an astronaut.
So just because your cavy wears one outfit doesn't mean she'll keep getting dressed in whatever you pick out for her to wear.
But, even if they don't freak out when you dress them up sometimes, remember that it's ultimately not worth it.
While wearing clothes might seem fun to you (and I understand those pictures are crazy adorable), it's unhealthy in the long run.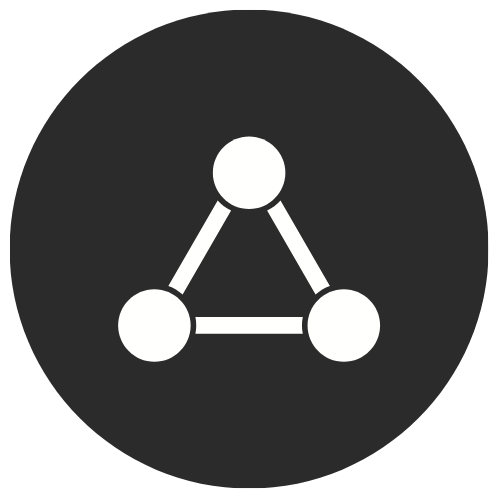 What If I Just Want To Keep My Guinea Pig Warm? Is It Okay Then?
Not really, my friend.
The risks still apply – even if you're doing it to give them some extra warmth in the winter months.
But, no worries.
There's lots of other things you can do to keep your cavies warm and toasty, including:
Add extra bedding (hay and pine shavings) to their cage.
Give them heat pads to snuggle with.
Keep them out of drafty, chilly areas.
Use a space heater with an automatic shut off.
Keep their cage off the floor where it tends to be colder.
Guinea pigs wearing clothes are often a bad idea. It's not recommended, but if you want to get them warm, there are other safe ways to do so. Like extra bedding, heat pads, a space heater, and blankets.
Is It Ever Okay For Guinea Pigs To Wear Clothes?
There's basically two scenarios where it's okay to wear clothes.
Medical reasons: Sometimes vets will recommend that guinea pigs are wrapped in a cloth or wrap of some sort to prevent excessive scratching or prevent the animal from injuring themselves.
A completely nonrestrictive prop: This'll likely happen on special occasions. I'd suggest a hat as the most appropriate costume choice. One that doesn't tie around your piggie's neck can be used on occasion. But, only if your furry friend doesn't mind – and only keep it on for a short period of time. If she does, take it off right away. Don't stress out your fur baby.
How Long Can Guinea Pigs Safely Wear Clothes?
Short answer: not long. Guinea pigs can safely wear clothing for about 20 or 30 minutes. And you need to monitor them the entire time that they're dressed.
Now, this isn't a precise time. 
Your piggie will tell you when enough is enough or whether you should bother trying at all.
So, if you plan on doing a photo session, you'd better have your camera ready and soon as you plop on that hat or (God forbid) an actual outfit that covers your piggies' bodies.
If it seems like the piggies are reacting weirdly to their dress-up time, cut it short.
It's not really worth stressing your guinea pig out and accidentally injuring them, so if they're struggling to get it off, then take if off for them- for good. 
Naked Guinea Pigs Are The Happiest Guinea Pigs!
Hopefully, this post has you thinking twice about dressing up your guinea pigs in clothing.
It's a common mistake for people to dress their piggies up in outfits. I don't care if pet stores sell them. It's not safe.
Just like humans, guinea pigs need to breathe and move in their natural state.
And remember that even the most comfortable outfits are dangerous to your fur babies.
Piggies are most comfortable (and healthy) when they can just be themselves-naked and free.
At the end of it all, you need to remember that they are guinea pigs- not human babies and not everything we'd do with human babies should be done for our fur babies – like dressing them in cute outfits.
If you've got an opinion on guinea pig clothes, please let me know in the comments section below.